Cashing In on Consumer Product Reviews
DECEMBER 10, 2007
(Source: eMarketer)
Consumer comments boost buying.
Getting online shoppers to convert to buyers, whether online or offline, requires trust-building tactics such as easy site navigation, good search tools and complete product information.
Shoppers today are also often looking for consumer-generated product reviews.
According to Avenue A | Razorfish's "Digital Consumer Behavior Study," 55% of the 475 US Internet users surveyed in July 2007 reported checking other people's opinions online. Fewer than one-quarter looked at comparison charts (22%) or expert reviews (21%). Under 1% cared about shared shopping lists.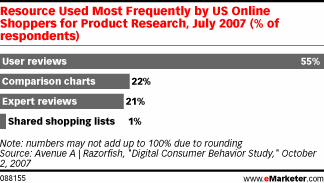 A study conducted in August and September 2007 by
Deloitte & Touche USA
had direct bearing for online health and beauty marketers. Of the 3,331 US adult Internet users polled, 18% said that reviews posted by other consumers influenced a purchase decision for a beauty or grooming aid.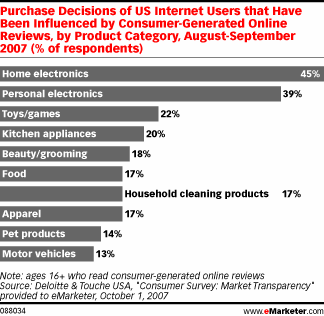 A recent
Internet Retailer
report, "Web Site Design, Content and Rich Media," showed that consumers who read online product reviews were also likely to buy more while on an online retail site.
Some 27% of the respondents who read customer reviews reported average spending between 5% and 10% higher than those who did not read them. Another 21% of review readers reported average spending between 1% and 5% higher than that of non-readers. Nearly 7% of respondents who said they read customer reviews reported average spending 20% higher than other online shoppers.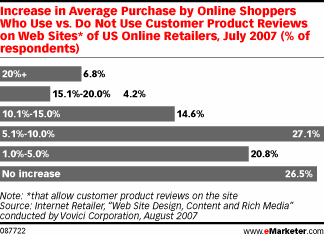 Learn about other health and beauty online marketing strategies. Read
CPG Online: Health & Beauty Go Interactive
today.